September 7th, 2009 by Jordan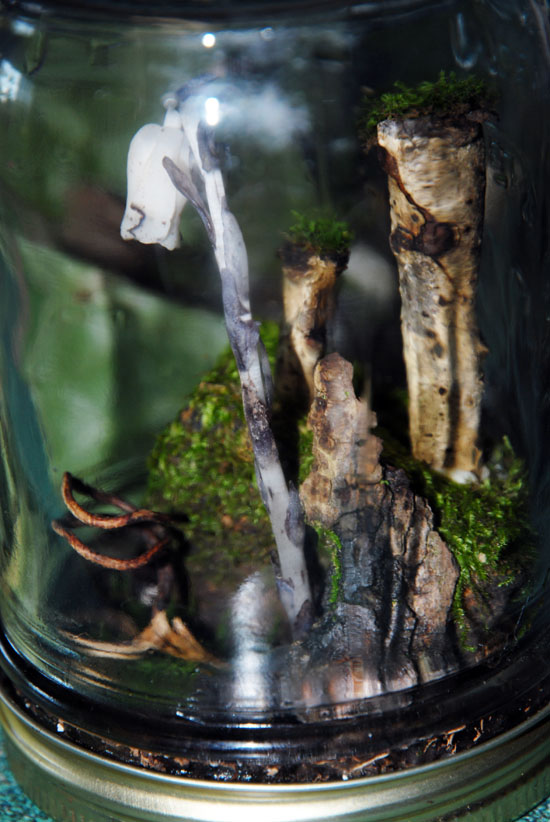 Okay, so this wasn't my idea.  It was taken from DesignSpongeOnline.com.  However, outside from just being a fun project, I thought travelers would appreciate a post on Terrariums.  A Terrarium is a simple self contained eco-system that you create and just let sit….no watering long lasting if done properly.  So you can be on the road, country-hopping, and still have plants that are watering themselves back home that will not be dead upon your return.  That's what makes them so perfect for travelers.
Inspired by the post from Design Sponge, I set out to make my own.  I've attached more pictures after the jump to sort of show you the tools and nature elements you might want to use.  Originally, I was thinking there was no way these are going to work, but after just 4 hours, the moisture is still forming on the inside, so I have hope!
Read more and View more pics after the jump
This was my work station…and I must say the best part of the project is going out to look for plants and elements to use in the terrarium.  I used a glass jar (thanks Mom) instead of buying an expensive piece of special glass, and just put everything on the jar lid before screwing down the glass.  And that mushroom was suppose to be used, however it was picked the day before so I think it was past it's life cycle.
Basic tools needed.  I even used a bit of super glue to get the wood and rock foundation attached solidly to the lid.
This was the second one I created using moss on the bottom and some weeds found near the apartment.
After about 5 hours, you can see the moisture forming on the inside….which gives me hope they might actually last.  There is a lot of moss at the bottom that can't really be seen in the photos.  Also I'm worried the glue gas (ya…that's technical) from the super glue used will disrupt things also but it is worth a shot.
So…go make your own.